1976: Dorothy Hamill's wedge cut Yes, Americans were in awe of her Axel, Salchow and Lutz--along with the gold medal she brought home--but women everywhere just plain worshipped that wedge, a style that stayed sleek no matter how high she leaped.
1988: Florence Griffith Joyner's nails As hot and sweaty as she may have been sprinting down the track (moving at those speeds, anyone would get sweaty), FloJo never sacrificed her style. Her signature nails--painted a glorious red, white and blue here--became as expected as her gold medals.
1994: Oksana Baiul's birdlike skating costume Fashion has had its share of plumage moments.But Baiul beat her to the bird look with her feathery costume and head decor the year she flew off with the gold.
1994: Nancy Kerrigan's Vera Wang outfits Kerrigan shunned the usual flamboyance of skating costumes for elegant ones like this, with sleeves made of that gorgeous sheer illusion fabric--a definite Do. Take that, Tonya!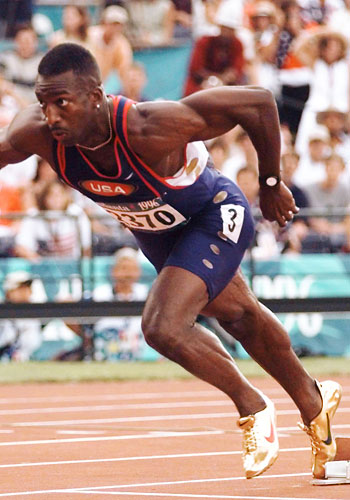 1996: Michael Johnson's gold sneakers He dominated the 200- and 400-meter races that year in golden Nikes. Then for the 2000 Olympics, he upgraded to ones with real 24-karat gold--10 pairs of them, reportedly. A nice match for the four gold medals he took home from both competitions.
2002: Picabo Street's eagle helmet Few were surprised that this gutsy skier wore her American pride so prominently. She proved that it is possible to make a statement no matter how bundled up you are.
2004: The U.S. Olympic beach volleyball team's suits Volleyball partners Misty May and Kerri Walsh were all style in their suits and the best accessory of all: Olympic gold.
2008: The U.S. Olympic swim team's Speedo LZR Racer Gone are the days of the skimpy Speedo (sorry, ladies). This full-body suit is built for velocity--swimmers have already shattered more than 38 world records in it.